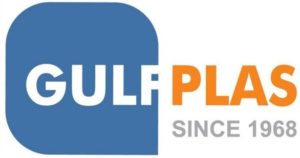 Gulf Plastic Industries W.L.L., (GULFPLAS) incorporated in 1968 is one of the first industrial ventures stablished in Bahrain to manufacture thermoplastic pipes & fittings. We manufacture u-PVC. CPVC,  PP-R, LDPE, HDPE pipes to internationally recognized standards including BS, ASTM, DIN, NEMA, AS and ISO recommendations.
The company Is the first plastic processors established in the Middle East and it is presently located in Bahrain International Investment Park with a total industrial plot area of 30,000m2.
Since its foundation in 1968, GPI has continuous process of increasing its production capacity by adding more production lines to meet its customer's requirements. After the recent successful commissioning of new Polypropylene (PP-R) pipes extrusion line, now we are glad to  introduce new extrusion line to manufacture various sizes of MDPE & HDPE (High Density  Polyethylene pipes).
GULFPLAS; is in the foremost of plastic technology and strives to retain this position. Quality has always been a cornerstone of our products and it's tested locally as well as in the UK, USA and Kuwait.
The company takes pride in having participated in various infrastructure, housing and communication projects in Bahrain and its latest are Khalifa Bin Salman Hidd Port & Bahrain International Investment Park, Durrat Al-Bahrain, Amwaj Island, Bahrain Financial Harbor, City Garden, Bahrain World Trade Centre, Al Areen Water Park.
The major share of GULFPLAS products are exported (70%) to various neighboring countries such as K.S.A., Kuwait, U.A.E., Jordan, Yemen, Oman, Pakistan and India and the balance 30% has supplied to the local market. The company has a strong presence in the Kingdom of Saudi Arabia through its customer network.
The company consists of more or less 130 highly qualified professionals and skilled workers among them are 40% are Bahraini and 60% are expatriates. GULFPLAS proficient management is headed by professionals with great experience in their designated department.
GULFPLAS Bahrain is an ISO 9001 – 2015 Certified Company.